For our first ever article in the Subject Matter Expert series, we sat down with Scott Warner, FreeFlight Systems' Business Development Manager. With nearly 15 years of experience in aerospace and aviation, Scott shares his insight on how avionics are evolving to keep pace with technological advancement, trends within the industry, and his career journey.
What is your role at FreeFlight Systems, and what brought you here?
I hold the Business Development Manager role at FreeFlight Systems, supporting and representing our talented FreeFlight Systems team to strategic partners, new markets, and global integration opportunities. I serve as the voice of our customers within the organization while helping them solve their complex challenges and needs.
I joined the FreeFlight Systems team due to the forward-looking, advanced products FreeFlight designs, engineers, and delivers to global aerospace customers, along with their long-standing, positive industry reputation. It was also an opportunity to join a growing, talented team and organization and contribute more across the organization rather than in a silo-styled role.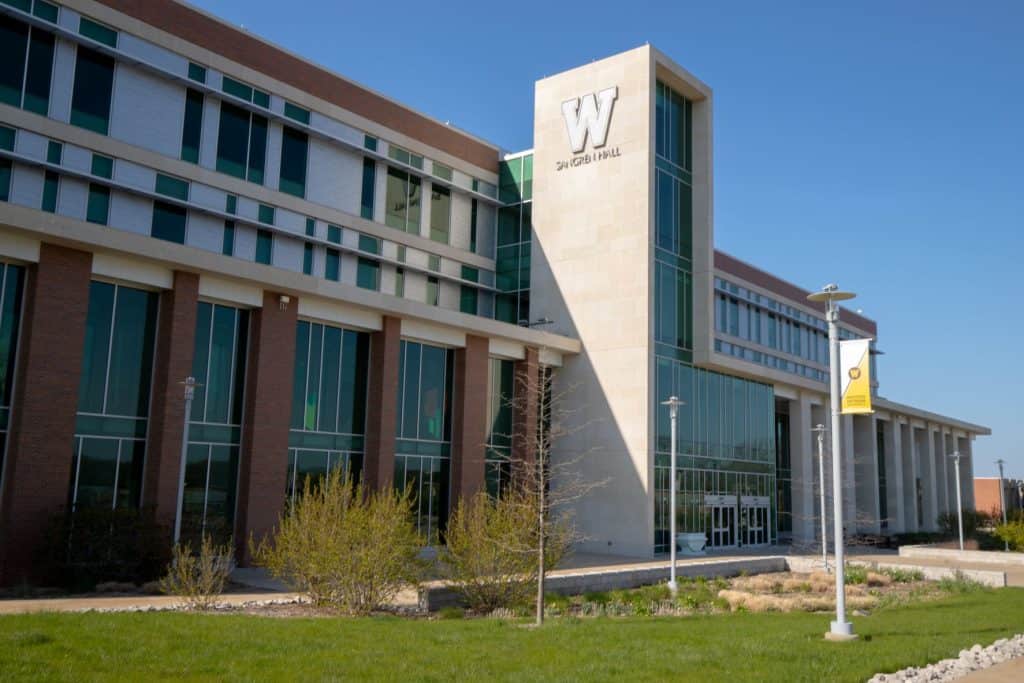 Western Michigan University campus building in Kalamazoo, MI. 
What is your educational background?
I have a Bachelor of Science in Aviation Science and Administration with a minor in General Business from Western Michigan University in Kalamazoo, MI. I followed this up with a Master of Business Administration with a concentration in International Business also from Western Michigan University.
What is your subject matter expertise at FreeFlight Systems? What do you teach at the College of Aviation?
My professional subject matter expertise is centered around avionics and aircraft operations alongside process and project management.
I teach the Aviation Management and Operations capstone business course at the College of Aviation at Western Michigan University. Students in the course learn the components of writing a business plan, soliciting investors, and creating sales pitches to win business – all with an aviation and airline-related twist. In this course, the students also utilize online software to compete against their peers in an airline business simulation, providing a bit of fun and competitive spirit that I enjoy sponsoring.
My early-career mentors supported my professional learning, work ethic, and management communication skills while at Western Michigan as a student and as the Student Recruitment and Outreach Officer for the University. These mentors supported me in my career while I went into aviation consulting and avionics. 
How long have you been involved in avionics and aircraft operations and how did you get involved?
I have worked in aerospace and aviation for 14 years and avionics specifically for around seven years. After departing the education and consulting side of aviation, I got involved in the avionics business. I've always been interested in aviation and technology, so the avionics world was always particularly interesting and exciting. I was lucky enough to have some great contacts within the avionics industry, which helped support my career path in avionics.
What excites you about this sphere of aviation? What aspects of your job do you like the most?
The most exciting part of this sphere of aviation is the rapid technology enhancements that effectively make flying one of the safest modes of transportation that has ever existed. I'm always excited when avionics can produce not only operational enhancements but a significant degree of safety improvements. This technology has saved lives and will continue to do so, making the avionics industry pretty rewarding.
I enjoy the travel, technology, and people aspect of my role. I work alongside many high-talent individuals who are incredibly committed to this field – it's both motivating and inspiring. I'm fortunate to work within this community of high-performance, passionate professionals. I can also meet many of the global influencers of aviation and aerospace worldwide. Many of the companies and people I am privileged to interact with have provided the industry with huge advancements, while others are at the forefront of what's next to come. We are at an exciting point in aviation that is set to rapidly change over the next decade – this makes the job even more interesting and engaging.
What is the value of avionics to other industries, people, and society at large?
The avionics and aerospace industries provide world-class, adequate safety and performance standards across almost all industries. Avionics contribute to the whole of society as people, products, and cultures can connect quicker, safer, and with more access than ever before. Avionics, including radar altimeters, allow operational and safety enhancements that have far-reaching effects on the world's most complex supply chains affecting national economies and personal finances.
What are some challenges that avionics are confronted with today or has been in the past? What resources does it require to overcome it?
Avionics has never been without challenges, and today is no different. It requires the top talent of society to study, evaluate and solve some of the most complicated systems in transportation without the ability for the technology to fail. Millions of passengers place confidence in our industry's systems, people, and technologies. The industry must remain an attractive, high-talent, passion-based career path to ensure the industry can solve these complex, high-tech challenges presented.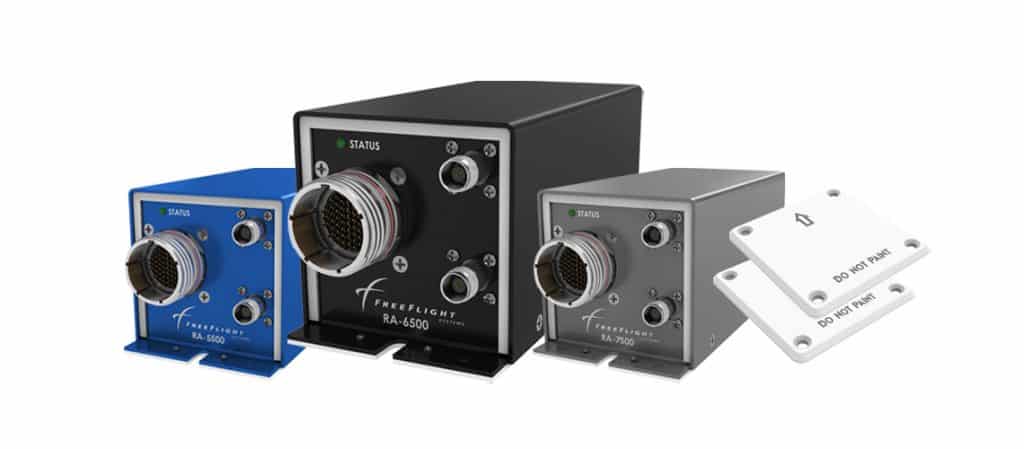 FreeFlight Systems' TERRAIN Series radar altimeters and antennas. 
How does FreeFlight Systems' technology help tackle those challenges? What capabilities does it offer?
FreeFlight Systems' has provided the industry with advanced solutions to complex problems throughout the last 21 years – this will continue with the introduction of the TERRAIN Series Radar Altimeter product family. The TERRAIN Series sits beside other advanced solutions within ADS-B, GNSS/SBAS, and RF technologies within the FreeFlight Systems' portfolio of products.
With the introduction of the TERRAIN Series, FreeFlight Systems offers the industry the world's only clean sheet-designed Radar Altimeter built to detect, mitigate, and reduce 5G cellular interference. As the TERRAIN Series was built with the latest Radar Altimetry technology, FreeFlight Systems was able to accommodate advancements relevant to both legacy aircraft and rotorcraft operations as well as the Urban Air Mobility (UAM) and the overall Advanced Air Mobility (AAM) markets. These advancements in radar altimetry (TERRAIN Series) technology offer greater accuracy and resolution, dual-installation capabilities, and DAL B level certification creating the best combination of being the lightest, least power consuming, and smallest Radar Altimeter available.
The TERRAIN Series product family is home to the RA-6500, RA-5500, and RA-4500 MKII systems. All of which are aimed at providing high-end radar altimeter capabilities to all market segments. Our most popular legacy RA-4500 can be quickly and economically replaced with our TERRAIN Series-based RA-4500 MKII – allowing our existing operators a quick solution to any upcoming 5G mitigation and interference radar altimeter requirements.

Scott Warner along with SKYTRAC's Luke Billington and Flight Data Systems' Bob Whetsell. 
How do you stay up to date on the latest trends in this segment? Are any innovations or developments on the horizon in this subject matter?
Staying up-to-date on the latest trends within the industry can be difficult. I do my best to ensure I engage with professionals in the industry as much as possible while attending major global conferences and keeping up with advanced segments of aerospace that include military, space, and advanced air mobility. I will be attending APSCON in Reno later this month. I look to my colleagues and lean on my network and peers across the industry to provide a high-level trend of where technologies and avionics are leading.
What do you like to do outside of work?
I enjoy traveling for leisure both domestically and internationally. I particularly enjoy international travel, where I can experience new environments, cultures, traditions, and activities that may be unique to regions of the world.
I also enjoy playing tennis when able, along with other racquet sports.
FreeFlight Systems' Subject Matter Expert Series focuses on sharing insights from experts and leaders in the aviation and aerospace industry. To learn more about FreeFlight Systems, please reach out to swarner@freeflightsystems.com or sales@freeflightsystems.com.